Katmai Air offers flightseeing tours to popular destinations such the Aniakchak National Monument, the Valley of Ten Thousand Smokes, and the surrounding areas of Katmai National Park to catch a glimpse of the breathtaking natural wonders that the park has to offer.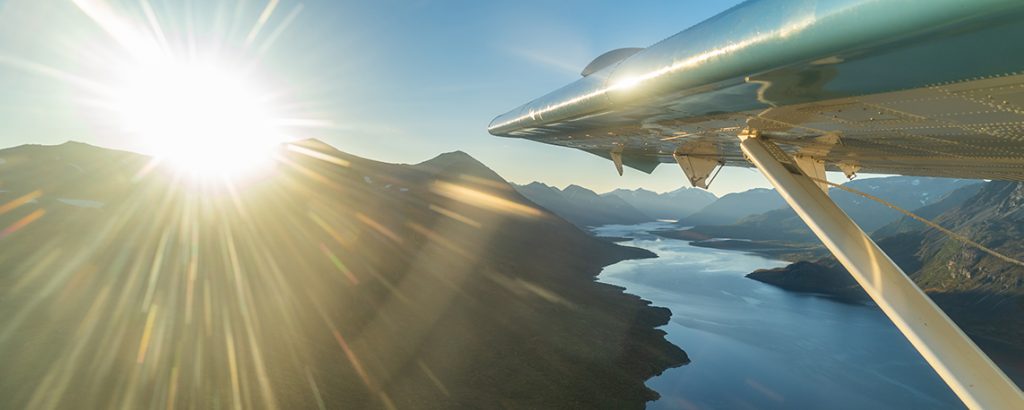 Flightseeing Tours from Brooks Lodge/Brooks Camp
The daily tour from Brooks Camp is a one hour excursion where visitors have the opportunity for an aerial view of the magnificent moonscape of the "Valley of Ten Thousand Smokes," active volcanoes, Katmai Crater Lake, and a variety of wildlife. Hikers may also want to take this one hour trip to get an overview of their proposed hiking trail when hiking the Valley of Then Thousand Smokes or other areas within Katmai.
Due to weather and demand, flightseeing times and availability are subject to change on a day to day basis during our operating season. Those interested in booking a flightseeing tour from Brooks should check with the Brooks Lodge office on-site.
Flightseeing Tours to Aniakchak National Monument
Due to its remote location, the Aniakchak National Monument and Preserve (a region surrounding the Aniakchak Volcano in Southwest Alaska) is known as one of the least visited, yet most coveted destinations to experience throughout the entire National Park System.
At the heart of the Aniakchak National Monument is the Aniakchak Crater, a 6 mile wide volcanic crater (also known as a caldera). The views from above are nothing short of extraordinary. Even more profound however, are the views from within. That's right, when the weather is right, our float planes are able to land within the crater itself, on a volcanic lake known as Surprise Lake for a true once in a lifetime experience.
Customized Flightseeing Tours
For those wanting something unique, a customized flightseeing tour can be arranged at our office in King Salmon, while at any of our lodges, or through our reservations office in Anchorage.
For more information on booking a flightseeing charter, get in touch with our reservations department by clicking the button below.